3 Ways Businesses Can Make Use of Videos
In recent years businesses have started to make use of videos more and more frequently – especially for marketing. It is important to note however that there are many different ways that businesses can use videos both in and outside of marketing.
Exploring the different ways in which your business could make use of videos could help you to utilize them more effectively. In particular, you may want to focus on the following:
Expose viewers to your brand's culture
More and more customers nowadays buy products from brands that they feel share their values. That is why it is important that you expose viewers to your brand's culture, including its values, goals, and vision.
Brand culture videos are an extremely powerful way that businesses can make use of videos. Not only do they help the brand culture gain exposure, but they also often put a human face on it and showcase the people behind the brand.
Provide proof of the benefits a product or service provides
Promoting a product or service using videos is all well and good, but what is even more powerful is providing proof of its benefits. That can take many forms in a video, including customer testimonials, case studies, or even how-to guides that show the product being used to perform a certain task.
While these videos do promote the product, they don't do so directly and it is best not to use them to 'hard sell'. Instead, they can help to show viewers exactly what they stand to gain by using that product or service, and help convince them that it is something they want or need.
Generate traffic and exposure
One of the more interesting ways that videos can be used is to simply generate traffic and exposure. In short this involves getting eyeballs on the brand, its website, social media pages, and other parts of the business.
As much as it is a very general area, it is important to any business and will strengthen their online presence. Normally the best way to use videos in this fashion is to incorporate them into a content marketing strategy for the brand, and create videos that are genuinely interesting to viewers and are likely to attract more traffic, get more shares, and so on.
Contrary to popular belief you don't need a lavish budget or expensive equipment to start making use of videos in any of the ways listed above. In fact if you want a simple all-in-one way to create business videos, you could try Movavi Screen Capture Studio. It is an easy-to-use desktop recording software that will let you record video footage from your screen and other sources, and it even has its very own built-in editor too.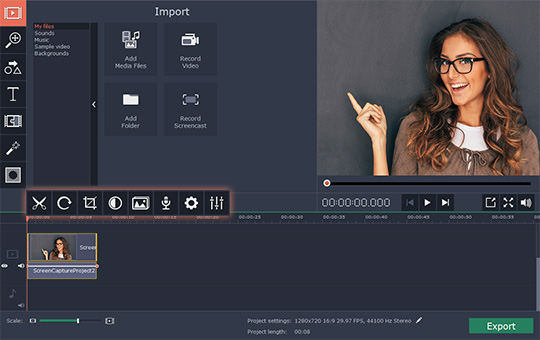 The features in Movavi Screen Capture Studio will give you everything you need to cut and join video segments, enhance their quality, apply special effects and filters, add audio tracks, insert captions, and more. With a bit of experimentation on your part, you should be able to create impressive videos that serve your business well.