Platform Carts Market Set for Rapid Growth to Reach Around USD 548.25 Million in 2021
Zion Market Research has published a new report titled "Platform Carts Market: Global Industry Perspective, Comprehensive Analysis and Forecast, 2015 – 2021" According to the report, the global demand for platform carts market was valued at USD 548.25 million in 2015, is expected to reach USD 820.06 million by 2021, growing at a CAGR of 6.7 % between 2016 and 2021. In terms of volume, global platform cart market stood at approximately 6.80 million units in 2015.
Request Report Sample https://www.zionmarketresearch.com/sample/platform-carts-market
A platform cart is a load supporting cart comprise of the platform that is made out of wood or steel along with castors or wheels which can be moved manually. Platform cart is generally made up of the platform of steel or wood and wheels for movement. Platform carts are utilized in supermarkets, hotels and on platforms of the railway, bus stands, and airports. Platform carts are mostly used in transporting the luggage and materials. Platform carts are also used at supermarkets, railway stations, construction, and manufacturing plants among others.  Platform trucks provide strong transportation for material handling in warehouses, stockrooms and other commercial environments. Different railway workers use a trolley to transport goods on a platform at a railway station.
Get Inquiry for buying report https://www.zionmarketresearch.com/inquiry/platform-carts-market
Increasing population, rapidly growing urbanization, a higher number of international airport, hotels, and hospitality are driving the growth of platform carts market. Growing demand in rail transportation, increasing use of carts on platforms and bus stations for handling the luggage has lead to increase demand for platform carts globally. Rising market of hotels, cafes and supermarkets result in the growth in demand for the platform carts. Commercial and easy as compared to the traditional transporting method is the prime factor stimulating the growth of platform carts market. Ongoing research for product development in platform carts with finer specializations is estimated to open a new avenue for the platform carts market in near future. Escalating demand from the emerging economies is likely to trigger the growth of platform market.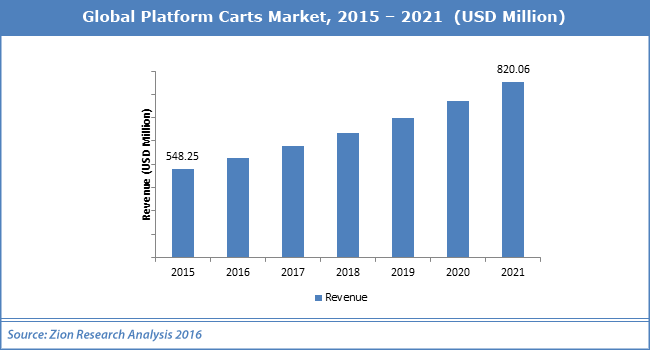 Some of the well-known type carts include platform cart, platform storage & transport carts, working platform and others. Various platform trucks are available in the market with a wide range of characteristics and operations such as wood platform trucks, aluminum platform trucks, steel platform trucks, plastic platform trucks, U-boat platform trucks.
Browse the full "Platform Carts Market: Global Industry Perspective, Comprehensive Analysis, Size, Share, Growth, Segment, Trends and Forecast, 2015 – 2021" report at https://www.zionmarketresearch.com/report/platform-carts-market
In 2014, North America was the leading market and accounted for 32% of total market share owing to established supermarket, railway stations and a large number of airports chains in U.S. Asia Pacific is predicted to show high growth for platform cart market due to escalating retail and travel in this region.
Multiple players in the market cause price competitiveness, strategies like a new product launch, advance manufacturing facilities, joint venture and acquisitions. The key players in the platform market include AGAB Pressautomation, CADDIE, Emmegi Group, i-lift Equipment, Off., Giovanelli S.a.s, Quantum Storage Systems, Rubbermaid Commerical Products LLC and SALL S.r.l among others.
This report segments the platform carts market as follows:
Platform Carts Market: Regional Segment Analysis
North America
Europe
Asia Pacific
Latin America
The Middle East and Africa
Contact US:
Zion Market Research
4283, Express Lane,
Suite 634-143,
Sarasota, Florida 34249, United States 
Tel: +49-322 210 92714
USA/Canada Toll-Free No.1-855-465-4651
Email: [email protected]
Website: http://www.zionmarketresearch.com